Current Mood:

uncomfortable
Current Mood:

nostalgic
In any case, for the time being, I'll just keep posting here. Mirai updated her
Panasonic profile
with photos & videos.
I especially enjoyed these 2 videos:
I found this very informative. Like how long you have to hold moves. And that there's a move called the "hair-cutter" And that she worked really hard on her layback spin (and it shows! especially compared to some of the other skaters) And lol at her comment at the end about her shaky ending pose.
Video link
I loled at her explanation on why she doesn't use her middle name in skating competition anymore. Poor, alien.
Video link
I'm thinking about creating a tumblr account just to focus all my Mirai material there because I feel weird about shoving it all in my lj.
Panasonic Teams Up With US Olympic Figure Skater Mirai Nagasu
Panasonic to Film Rising Skater in Full HD 3D; Will Provide Behind-the-Scenes Look at Her Olympic Experience on LivingInHD.com
VANCOUVER, Feb. 12 /PRNewswire-FirstCall/ -- Panasonic, the Official Worldwide Olympic Partner in the Audio and Visual Equipment category for the Vancouver 2010 Olympic Winter Games, and a world leader in High Definition technology, announced today that it has teamed with US Olympian, Mirai Nagasu, one of the youngest Olympians, to compete in the women's figure skating competition at the Vancouver Games. Mirai will work with Panasonic on a range of projects including a skating video, shot entirely in Full HD 3D for viewing on 3D TV.
The sixteen year-old 2008 US Champion from Arcadia, CA, who is competing in her first Olympic Games, will work with Panasonic to create a demonstration video on the key elements in an Olympic figure skating program, which Panasonic will present on its Living In HD site, a support-site for people who are interested in all the different HD products available today.
Ms. Nagasu and her family will also become members of Panasonic's Living In HD Family Program (www.LivingInHD.com) and will be the first family in the program to receive a Full HD 3D Home Theater System.
First launched in August 2007, the Living In HD program was created to help people get the answers they need about the emerging HD, and now 3D products coming to market by communicating with real people who are actually using the technology in their everyday lives, and a true technology guru referred to as the "Answer Man". Participating families receive a suite of interconnected High Definition products, including VIERA Flat Panel HDTVs, home theater systems, Blu-ray Disc™ players, LUMIX digital cameras and HD camcorders. They provide feedback on how they use the products in their everyday lives and share their own inspirational and creative project ideas through the LivingInHD.com community website. LivingInHD.com is a community for people who share their life experiences with others through photos and videos, learn new tips and tricks and connect with others who are interested and excited about High Definition technology. The Living In HD community is powered by people who have answers and those who have questions, in an environment that fosters sharing, inspiration and growth.
Ms. Nagasu will share daily "tweets" and Facebook messages with fellow LivingInHD.com community members for behind-the-scenes insights of her first Olympic experience, as she prepares for the Olympic Figure Skating competition on February 23rd and 25th in Vancouver. The Nagasu family will also utilize Panasonic LUMIX digital cameras and camcorders while at the Vancouver Olympic Games and share the images on LivingInHD.com.
"We are very excited to team up with Mirai, and her family, as they embark on what we know will be an exciting Olympic experience," said Bob Greenberg, Panasonic's Vice President of Brand Marketing for North America. "Mirai has a bright future ahead of her and we're looking forward to the Nagasu family capturing all of the precious moments along the way with Panasonic's award-winning Full HD products, and sharing them with our Living In HD community. We are also looking forward to working with Mirai to link the highly-visual world of figure skating with the immersive experience of Full HD 3D for the home."
whee
omg so excited!! i wish i was at home right now so i could photoshop some 3d glasses on mirai and include it in this post.
post below this one
. I was going to post it on
ontd_olympics
, but I figured I might as well post it here too since I spent so much time on it. I wish I could link to this in my resume.
I just spent all day working on the
Athletes on our radar in Vancouver
The Winter Olympics kick off Friday, and ESPN.com's Howard Bryant, Jim Caple and Bonnie D. Ford preview some of the athletes to watch once the flame is lit in Vancouver.
The Night Train crew (men's four-man bobsled)
The U.S. men have been gold-medal dry since 1948, but finished the World Cup season as the best, led by driver Steven Holcomb. Whether that will translate into gold on the treacherous track in Whistler remains to be seen, but the team of Holcomb, Curt Tomasevicz, Justin Olsen and Steve Mesler are not exactly underdogs anymore.
-- Bryant
(
please enter after you have finished staring at the above pic
Collapse
)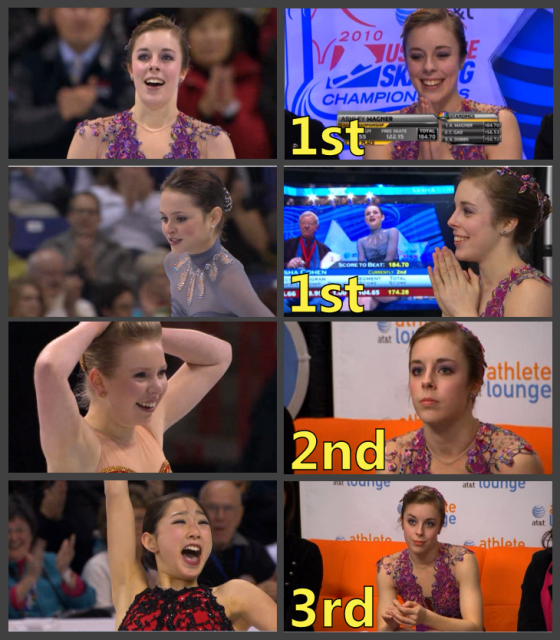 Poor Ashley Wagner. She came back from a okay short program and was in first place with a great free skate. Unfortunately, the top 3 skaters had yet to skate. Look at Ashley's face go from happy to displeased as she ends up in third place, just missing out on an Olympic spot. I think my favorite is how happy she looked after Sasha's poor free skate.
Come inside for more Ashley Wagner, Mirai Nagasu, Rachael Flatt, and Sasha Cohen.
(
more pictures in here
Collapse
)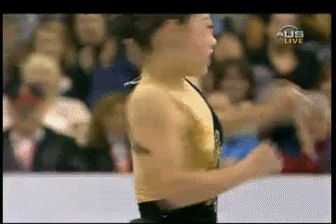 Yay! Congrats to Mirai Nagasu for making the Vancouver Olympic Figure Skating team!
(
yay mirai!
Collapse
)
Current Mood:

happy
Current Mood:

thirsty
Current Mood:

nostalgic